Fluoroplastic Connector Hoses
BiTAC®2 Family3 Technology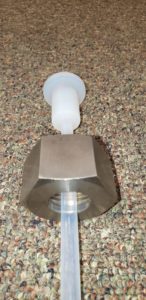 Fluoroplastic Flex Hoses with Various Connecting Systems.

Prince fabricates fluoroplastic (PTFE, FEP, PFA) Anolyte, Catholyte feed hoses and depleted brine/chlorine and caustic/hydrogen discharge hoses.

Capabilities include – thermoforming, flaring, convoluting, and welding.

Size range from 1⁄2" to 6" ID.

Hose length and shape customizations available.

End Connections can be with metal (SS, Titanium) or plastic backing flanges. Metal (SS, Nickel, Titanium) or plastic union nut connectors with gaskets (6962 special EPDM), or with plastic compression fittings.
Trademark: INOVYN ChlorVinyls Limited
Trademark: tkUCE GmbH
Prince's Fluoropolymer Replacement Tubes are compatible with BiTAC, N-BiTAC, and Nx-BiTAC Technologies.
Trademark: Asahi KASEI Chemical Corp.